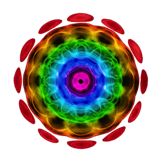 Find recent events, more in depth news and lots more here.
12 Week Course on Bel Canto vocal technique, healing vibrations through singing for health and wellbeing

La Nova Studios Christmas concert 2021.
All students sang a solo, those who took part in the Christmas singing course performed their own ensemble piece as did La Nova Singers and all singers sang several songs together ending with an audience participation with Jingle Bells and a carol.
Tea and food were enjoyed by all after the concert!
Michelle's sounding bowl debut 'Let all Mortal Flesh'
at St. Ambrose Church with Josephine Duncan.